Wednesday Jan 25, 2023
#13 Henriette Cornet (the host) - Behind the wheel, reflections and futures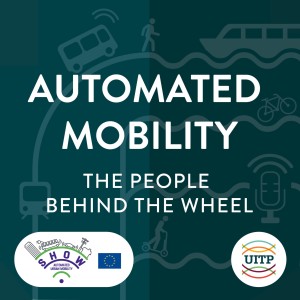 In this podcast episode, the host Henriette Cornet wraps up the year 2022 with the main highlights that happened in the field of automated mobility and in the SHOW project. After discussing some of the automated services that are now deployed in the project in numerous cities over Europe, she tells us what is next in the project and invites the listeners to answer a quick questionnaire in order to get to know the audience and gather feedback about the Podcast – we want to hear from you! questionnaire below!). 
Questionnaire:
Please answer the questionnaire here to give us your feedback about the podcast series. Do you like it? What was your favorite episode? What do you want to hear about in the future? It is very short and anonymous!
Links:
--
Subscribe to the SHOW newsletter to receive the latest updates 
Disclaimer: This project has received funding from the European Union's Horizon 2020 Research and Innovation Programme under Grant Agreement No 875530. The sole responsibility for the content of this podcast lies with the authors. It does not necessarily reflect the opinion of the European Union. Neither the CINEA nor the European Commission are responsible for any use that may be made of the information contained therein.